Cool Pak and the Bunzl Agriculture Group bring a diverse offering of packaging, supplies and technological innovation to the fresh agriculture industry.  As an innovator in traceability, Cool Pak is uniquely positioned to provide a variety of traceability solutions at the item, case and pallet level.  There are a number of third-party technologies available to the produce community and Cool Pak has successfully partnered and supported almost a dozen of these technologies.  Cool Pak was in early implementer of item level trace back in 2006 on clamshells and was a pioneer in developing solutions for the Product Traceability Initiative (PTI) which is outlined below.  Today, Cool Pak supports over 1 billion item level trace and PTI labels per year and can help you implement or expand your traceability needs.  Below is a brief overview of some of the traceability options available to you.
Item Level Traceability
PTI provides supply chain traceability from the field to the retail store or food service operation but today only addresses pallet and carton level traceability. This leaves a gap between distribution and the consumer. A number of technologies have been developed by third parties, as well as in-house proprietary solutions, to address item level traceback for implementation directly on your produce packaging. In addition to the obvious food safety need for item level traceability, there are other sound business reasons for implementing such a system.  Worker accountability and consumer feedback on quality of produce can provide a significant return on investment.

Item level traceability, or unique item identification, extends food safety to the consumer level, by providing a unique traceable number or code on each retail unit.  While not yet an industry initiative or law, item level traceability has been embraced by a number of key retailers and growers/shippers.
Through the use of smart phones, consumers can now scan a QR Code or Data Matrix 2D bar code on the package to access a website which will inform them if that unit is linked to a product recall. Cool Pak has high speed inline printing presses designed for high volume production of variable 2D bar codes, serialized and encrypted, and doesn't require secondary offline printing.  Cool Pak is a qualified source for the Item Level Traceability Programs for technologies such as HarvestMark, iTrade and ADS.
Produce Traceability Initiative (PTI)
PTI stands for the Produce Traceability Initiative. It is an industry-initiated program designed to establish a standardized system to label every carton of produce that moves through the supply chain so that in the event of a recall, the industry can quickly and efficiently remove suspect product linked to an outbreak. The PTI program recommends that all companies involved in produce marketed in the US adopt this common approach to carton identification. This includes, but is not limited to, growers, packers, re-packers, distributors, traders, retail stores, and food service operators.
To learn more about PTI there is a dedicated website created by the PMA, United Fresh and Canadian PMA that can answer many of your questions: visit producetraceability.org.
PTI Labeling
Most produce can be broken into two main categories for the purpose of determining how PTI labeling can be accomplished. Fresh produce packed in the field (row crops, berries, melons, leafy greens, artichokes etc.) and produce packed in a pack shed or processing facility. These two packing environments bring new business process changes when labeling each carton to PTI specifications. The following solutions are available to address your particular produce operation.
Printing/Applying Labels in the Field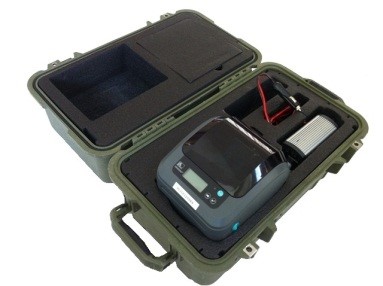 Cool Pak has a variety of hardware options to print labels in the field. One option is the Cool Pak Field Kit for in-field PTI labeling.  The Field Kit consists of a water-tight, highly durable case, a power inverter to facilitate AC or DC power, a four-inch-wide direct thermal printer, and ruggedized mobile terminals from Motorola and Intermec. Cool Pak has deployed hundreds of these kits for their customers.
Cool Pak Field Kit for PTI
Choose of Motorola or Intermec Handheld Terminal
Zebra or Intermec Label Printer
AC-DC Power Inverter and Associated Cables
Rugged, Water-Tight Case
Printing/Applying PTI Labels at the Cooler
Labeling at the cooler can overwhelm the receiving and shipping processes, jeopardizing the shelf life and quality your produce. Speed and accuracy of labeling are keys, especially if product is labeled outside. Cool Pak will scope and recommend the appropriate printers, with a variety of available options, such as mobile carts with optional battery feature, external rewind units, and wireless communication features.  Cool Pak offers a wide variety of on-demand label printers from the leading manufacturers in the industry.
Preprinted Label Option
The third option is to preprint PTI labels with the specific Global Trade Item Number (GTIN), lot number, and pack style information encoded in the label. Cool Pak can provide pre-printed labels in short or long runs with fast delivery throughout North America. Cool Pak can also print variable data from label to label with our high-speed digital printing capability in house.
High Speed, In-Line PTI Labeling
In many instances where high volume packing is implemented, PTI label printing and application, using automated equipment integrated in-line with existing conveyor systems is the answer.  Cool Pak works with several of the top automated print and apply manufacturers to provide in-line solutions.
Cool Pak PTI Labels
Cool Pak has conducted extensive label testing with grower-shippers across the US to engineer three types of PTI case and pallet labels.
Paper Label with all temperature adhesive for Kraft cartons
Poly Removable label engineered for RPCs that release in the wash cycle without leaving residual adhesive behind
Poly Permanent label with permanent adhesive specifically designed for wax impregnated cartons
IFCO and Tosca, two of the leading RPC manufacturers, have tested and recommend our RPC Label for their RPC applications.
Pallet Labels
Cool Pak offers a wide variety of stock and custom pallet labels for the fresh produce industry. This includes complex label structures, such as piggyback labels or daughter tag configurations. As less-than-full pallet orders are picked, a daughter label is removed and affixed to the withdrawn units to enable tracking and auditing of the picked order.
Optionally, double-numbered labels are used to wrap around the pallet corner. This allows warehouse personnel to load the pallet into racks from either side with the bar code still visible for scanning.
Other Cool Pak pallet label offerings for the fresh produce industry include pre-encoded bar code labels for both wax-sided cartons and RPCs. They can be in "set" type formats (either piggyback or hanging), single number formats, or corner wrap formats.
Comprehensive Trace Solutions
Whether you are implementing PTI, a third-party item trace solution, or developing your own in-house solution, Cool Pak's vast experience and resource pool are available to provide the right food-safety confidence to your customers and the consumers they serve.
Contact us today to setup an appointment with one of our traceability experts.